---
THE BOOK IS FINALLY HERE!
Equine artsits from all over the world
celebrate the horse through Mural Mosiac's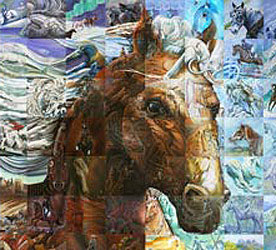 Image courtesy of Mural Mosaics


Le Cadeau de Cheval
THE GIFT HORSE
283 individual paintings
174 artists

Unveiling at Spure Meadows, 09/03/2008. Photo: Tracy Kolenchuk

Exhibition Schedule:

October 9-26:
All American Quarter Horse Congress Columbus, OH

December 4-13:
National Finals Rodeo, Las Vegas, NV
---
"Two Blue" by Olva Stewart Pharo.
I am not really a painter but when I was asked to join the Mural Mosiac team
I couldn't resist. What will I do? I was given the lovely blue and white panel below.
It suggested a horse profile to me and "Two Blue" was born. Panel #16.
Now "Le Cadeau du Cheval" will travel the country promoting the beauty of the horse.
The first unveiling was at Spruce Meadows, Sept. 3-7.

Panel #16
---
CLICK HERE TO GO TO MURAL MOSAIC SITE
---
---
Back to Home Page
For more things of interest to horse people:
Last update: 1 June, 2009