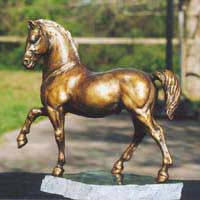 ST. MARK'S HORSE #1
Inspired by the Greek horses
atop St. Mark's Basilica in Venice, Italy.
Over the centuries many have coveted these horses.

Napoleon stole the horses
to put them on the
Arch de Triumph in Paris.

Hitler stole these horses
and placed them on the
Brandenburg Gate in Berlin.

Each time they were
returned to Venice.
No one knows exactly
how they got there
or from what Greek
monument they
were stolen.
You can see indentions
on the originals
where bridles were
once attached.
These were four horses
pulling a chariot in a procession
celebrating what victory.
We may never know.




ST. MARK'S HORSE #1
Today only copies stand
on the Basilica facade.
The originals are made
of gilded bronze
and are inside a
special museum
protected from the ravages
of weather and pollution.

They have always
fascinated me.
Each is made from a
Western Prancer Breyer Horse,
bending and manipulating the material,
and using a faux bronze finish.

#1 & #2 have been SOLD.
To order a custom
St. Mark's Horse call:
281-373-9304 or email: portraits@texhorseman.com
for more information.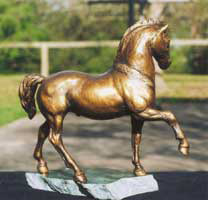 Left side view.
Each model is permanently
mounted on a
rough edged granite base.
For one (1) horse: $200.00 + shipping & insurance