Horses of a Different Color
"Mini Portraits"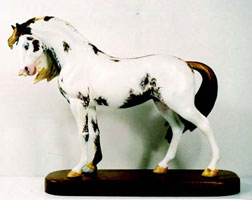 Have a custom portrait of your horse
on a Breyer Model. Your own horse in a
portrait sculpture, in full color,
for substantially lower price
than bronze. (But it is plastic.)

Send me photographs of your horse from
all sides to properly reproduce
the markings.

MINI PORTRAITS are available in 4 sizes:
• Stablemates, (2-1/2" - 3") from $150.00
• Paddock Pals (5") from $200.00
• Classic, (8") from $250.00
• Traditional size, (9" - 10") from $300.00

Paints, Appaloosas and
special markings extra.
Re-working of manes and tails
or braiding of manes and tails is
extra for each customization.

The Breyer Model is not
included in the price.
You can supply it or I can buy it.


---
Call 281-373-9304 or email: portraits@texhorseman.com for more information.
Scroll down to see examples of portraits.
Traditional Size Examples
Classic Size Examples
Stablemates Size Examples
---
Other items of interest:

Click here to new Exotic Horses.

Click here to the "Jalaloosa" Maquette made for the TRF Fund Raiser.

Click here to return to "Horses of a Different Color".